Chapter 2a, Savage, MN
Posted by Brooke Tower on Monday, August 18, 2014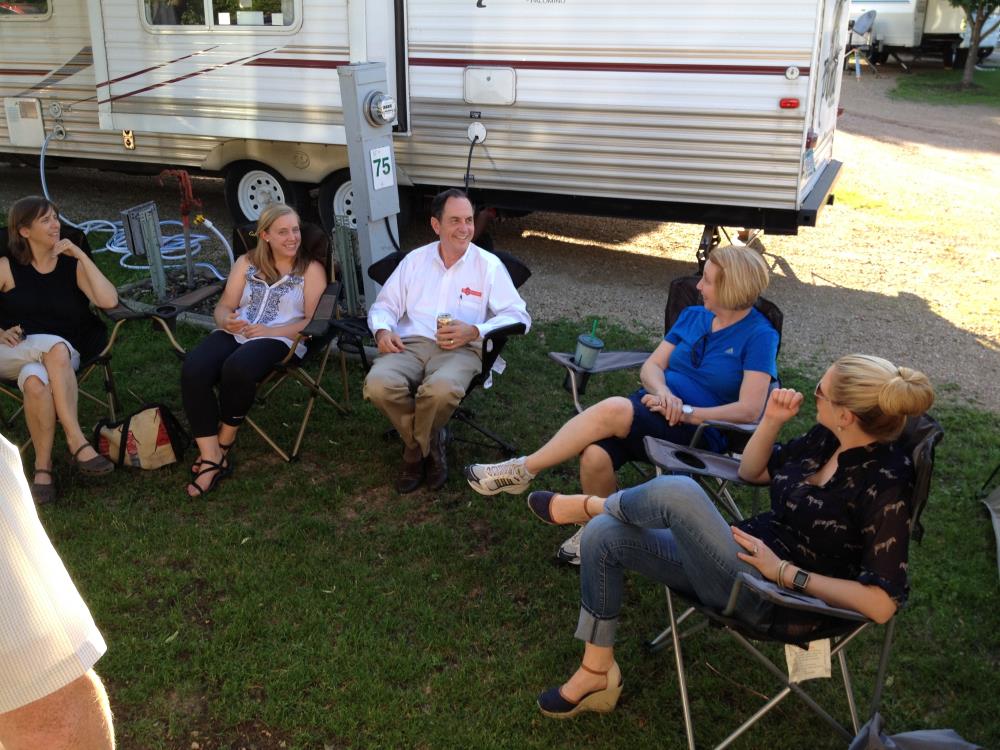 June 15-21, 2014
We had 2 weeks to live and play near the Twin Cities and we wanted to make the most of the opportunity to be with family and friends so I *probably* over-scheduled us. And so the log of what we did there is best divided into two entries. What follows is the first. Read the rest in part 2...
Week 1
In the interest of simplicity, these chapters will be named for where our 5th wheel was parked, where we slept each night. The weeks leading up to departing on this adventure were full of packing, moving and taking advantage of fun opportunities with friends and family so we were all exhausted even before two long travel days. Driving a truck and towing a 37-foot 5th wheel takes more time and energy than just driving a car. J. was so tired he let me drive on the way to MN and actually fell asleep in the passenger seat--a very rare occurrence.
We arrived at Town & Country Campground and RV Park at about 5pm, with just enough time to set up before heading to my parents' home for a Father's Day barbeque in Eden Prairie, MN. It was so good to be with my parents and sister, Whitney, and her husband, Bjork. We had not yet seen my parents' new-to-them house yet, so it was great to see where they live, and how they are making their new house their home.
Monday, J. worked while we took it easy around the campground and the kids went swimming and met some new friends from Duluth. The game room with foosball, ice hockey and ping-pong was a great place to play with their new friends. Luke had a great attitude about learning the new life skill of washing dishes.
Tuesday, after swimming during J.'s two morning meetings, we went with my mom to The Works Museum in Bloomington. It was free with our Grand Rapids Public Museum membership (ASTC member)--love that reciprocity!!! It wasn't crowded and had lots of great hands-on exhibits for us to explore.
Wednesday morning, the kids and I went to my Aunt Jill's home to deliver some family heirlooms and for her to share her homeschooling experience and recommendations with me. It was encouraging to hear her wisdom and perspectives. And especially the reminders to be extra patient with myself and that the kids will learn so much just by being in so many different places. Wednesday evening, I got to go out for dinner with my mom to The Good Earth for a delicious dinner and then shopping while J. stayed home with the kids.
Thursday, I encouraged J. to find somewhere else to work so I could put things away and catch up on laundry. It was a perfect rainy day for playing games and watching movies. J. spoke at the Twin Cities .NET User Group in the evening and really enjoyed the chance to connect with local professionals. Mom babysat so I could go out for dinner with my incredible sister, Whitney.
Friday I got to connect with a friend I have known since two-year-old Sunday school and hadn't seen in years. It was wonderful to meet Lara's two little kids and catch up with her. There is something very comforting about being with someone who is so familiar with who you are, your family, and places you have been. There aren't many people who can tell me that Lauren reminds them of Whitney because they remember her when she was younger J. After lunch, we got to be her guests at the Shoreview Community Center with an awesome 2 story jungle gym with tunnels. Despite an age difference, it was so fun to see our kids interact and play together. When Lara took her kids home to nap, we decided to braved the nearby indoor water park even though it was packed full of camp kids. The highlight for each of us was choosing a song that had coordinating lights while we each went down the waterslide. We could have stayed longer, but I had some grocery shopping to do and needed to brave a long commute (1+ hour--I realize long is relative) back to the RV park.
Before we left Michigan, I thought it would be fun to host a barbeque for the extended Swanson family to come see our new home and invited my parents, Whitney and Bjork, and my aunt and uncle and four cousins. It rained a lot while we were in Minnesota, so we were thankful for some rare good weather to be able to be outside. It would have gotten really cramped inside with 11 adults and 2 children.
Luke was inspired after hearing about the quizzes that Lara's nephew gave at family get-togethers and made up a quiz for each of us to try to answer about the state that we picked out of a box. Bjork won the grand prize of a piece of gum for scoring 50%. Other than state capitals, I know little about the state birds, flags, stones, flowers, trees or populations. Everyone was a good sport, especially J. and my mom who looked up all the answers. :) It was a very fun, very full day.
Saturday, the four of us decided to check out the Science Museum of Minnesota. We got in free with our museum membership, but paid extra to see the dinosaur movie and exhibit. It was a fun day of learning and exploring together at this great museum. When we got back to the RV Park, we had just enough time and energy to enjoy the pool.
Lessons learned:
It is possible for me to have too much fun if I don't have time to rest and recover. I think other people might have a larger capacity for fun.
I believe in making the most of every opportunity. However, sometimes that looks like saying yes rather than going a more sustainable pace for me.

---