Chapter 3, Eagleville, MO
Posted by Brooke Tower on Thursday, August 21, 2014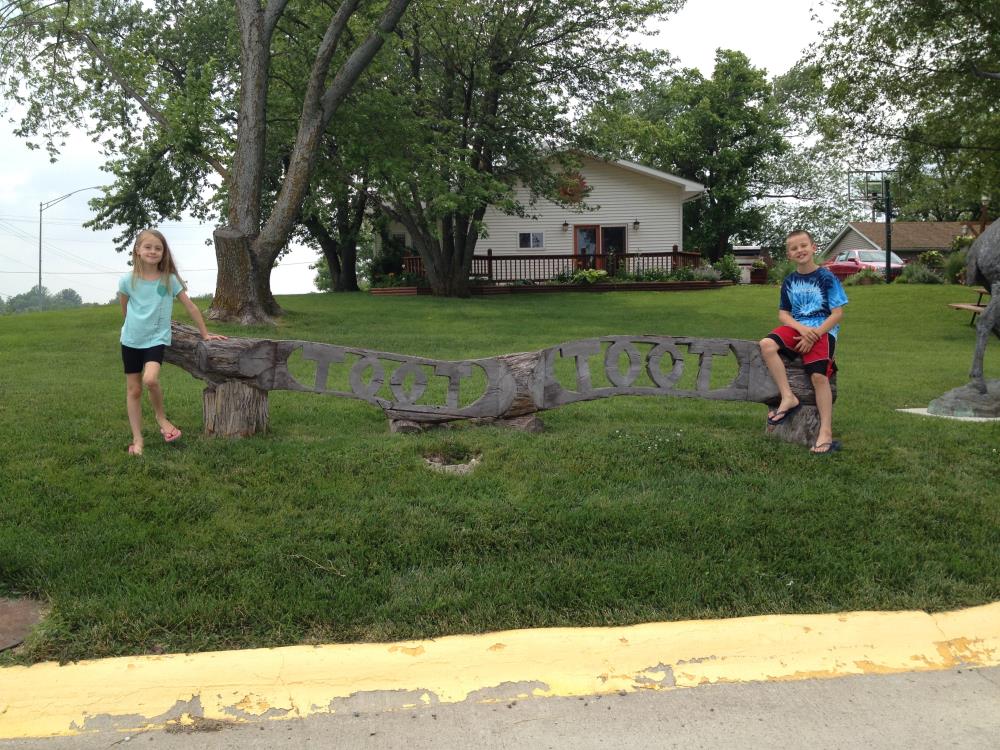 June 28-July 5, 2014

After a busy 2 weeks with friends and family, it was refreshing to be in a quiet, pastoral setting. We drove through the beautiful, peaceful hills of Iowa and arrived at Eagle Ridge RV Park to very friendly RV park owners who walked us to our site and made sure we had what we needed. The rain started falling just after we set up, so we enjoyed a quiet evening in the RV.
Sunday, we (the adults anyway) slept in. We watched the video podcast of Mars Hill Bible Church and it felt kind of comforting, like home, even with the very different vantage point. In the afternoon, we went shopping at the nearest grocery store in Bethany, about 20 minutes away. We had dinner at Toot-Toot, a greasy spoon my oh-so-mature sense of humor could not pass on taking pictures of. After we checked out the buffet line, we decided to pass on the "boo-fay" that our server offered and ordered from the menu. When we got back to the RV, and had found places to fit the groceries, we went for a walk down to the pond. There we found a great rope swing hanging from a huge tree.
Monday, the kids and I went swimming at the big unheated pool. The owners did a great job keeping the pool clean, but two cute little frogs from the surrounding garden got into the pool and kept Lauren from getting in for at least 30 minutes, even after I caught them and tossed them back in the garden. We had more thunderstorms in the afternoon, so we enjoyed some quiet downtime. Luke decided to try to earn some extra money by giving massages for 5 cents/minute. It was a great deal!
Tuesday was a cooler day, perfect for visiting Jamesport and enjoying a tour of this Amish community. It was fun to see new things and learn together. This is the trip where I realized that if the kids could, they would buy something in absolutely every gift shop or store if they could. See my post to learn more about our trip to Jamesport if you're interested in learning what we did on our tour. That evening J. took the kids to the pool while I read and enjoyed some alone time. The cool weather was great for a campfire and though we didn't have any food to roast, we enjoyed the flames and then spectacular stars. It is amazing how many you can see when there are no lights from surrounding towns. It reminded me of walks we would take when we were dating at Taylor University.
Anticipating much travel over the next 4 days, Wednesday was a quieter day. Luke and I went for a run and enjoyed the cows and hilly scenery. We went to the pool, but the water was too cold even for Luke, so we did not get in. There was an adorable and persistent cat who tried to get in our RV and the kids enjoyed playing with it for several hours. We relaxed that afternoon until we starting emptying our holding tanks in preparation to leave. We quickly realized that there was a loose connection with the hose that helps pressure clean our black (sewer) tank. I did not expect to have a flooded basement with the basement off the ground, but it was a good chance to reorganize a bit and learn more about RV maintenance. I am very thankful that J. figured out the problem, how to fix it, and that the water that flooded our things was clean.
Thursday was too cold for the pool again, and while J. worked, we picked up and packed for an overnight trip to visit extended Fenton family in Topeka, KS. J. had to deal with an "emergency" for a client and worked from the truck while I drove the two and half hours to Topeka. We were excited to stop at Sonic for dinner, but think it would be helpful to remember that they don't always have public restrooms for the next time we are looking for somewhere to stop.
We got back to Eagle Ridge Friday in time to put things away before the campground's truly impressive Fourth of July fireworks. Though there were plenty of places to buy fireworks nearby, I did not expect such a long or bright and interesting display. Apparently, some generous donors made it possible for all of us to enjoy the spectacular show.
We awoke to thunder and downpour and got very wet as we packed things up and prepared to leave on Saturday morning. Neighbors were very helpful in helping us rookies maneuver our big rig out of the crowded campground. We drove away feeling thankful for this oasis of peace and quiet. We drove back through Iowa and stopped in Nebraska for gas and snacks on our way to South Dakota.
---