Chapter 5, Sioux Falls, SD
Posted by Brooke Tower on Thursday, August 21, 2014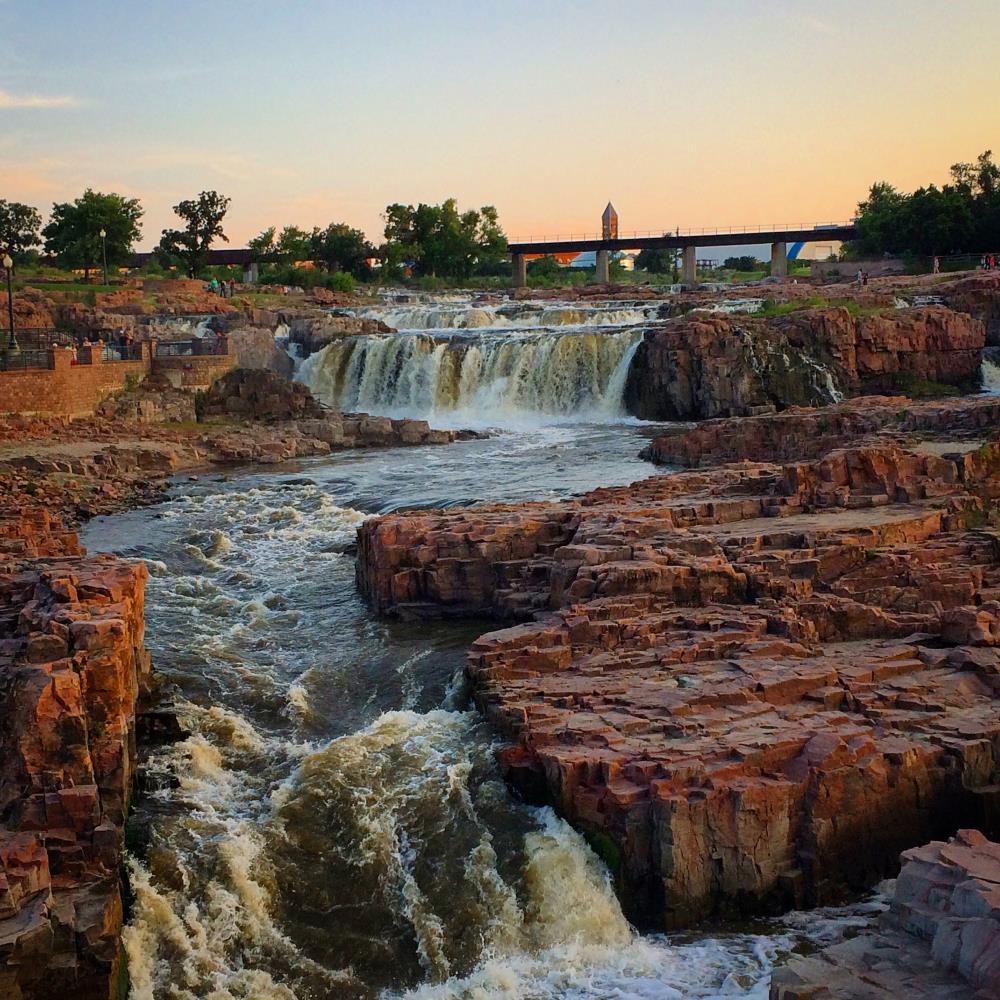 July 5-6, 2014

When we had originally planned our trip, we had planned to be in Sioux Falls for a week, but when the company Disney cruise date was changed from June to July, we decided to just spend one night boondocking (just parked, not hooked up to water or electricity) there instead. When we realized it was going to be so hot, we called Tower Campground to see if they had any availability that night. It was the first time when I was asked to spell my last name, that I could say, "Tower, as in the first name of your campground." Unfortunately, there was no discount for the name. But, they had room for us and we were very thankful for the luxury of electricity, air conditioning and great showers that night. The added bonus was pulling in at the same time as an identical Sundance 5th wheel.
We headed downtown and explored the urban sculptures along their main street while we waited for a delicious dinner at the Phillips Avenue Cafe. The huge brass walruses were the most creative/outrageous sculpture that we saw. The waterfalls for which the city was named were not far from the downtown area, so we drove there next. We all loved the beauty of the unique red rocks and waterfalls and explored the rocks in the company of many other admirers. Luke said he wished we could stay in this peaceful beautiful place for hours, but the sun was setting and we were already beyond tired. Lauren got sick and her dinner came back up in the middle of the night, so I was even more thankful for running water and air conditioning at 2am than I was when I collapsed into bed. Fortunately, she woke up feeling much better and we headed to Rapid City, South Dakota.
On our way, we stopped in Mitchell, to see the Corn Palace, a location that was brought to our attention while playing "Postcards from North America." The Corn Palace is an interesting place decorated with murals made of natural corn cobs sliced in half. They use about two tons of nails and wire to attach these to the walls inside and outside the building to form the murals. The gift shop was the highlight for the kids. And the popcorn.
After passing dozens of billboards advertising Wall Drug (though it felt like hundreds of billboards), we decided to stop there. We were fascinated by this crazy tourist mall/museum and enjoyed free ice water, ice cream and the rock shop there. Bill Bryson's quote fits it perfectly: "It's an awful place, one of the world's worst tourist traps, but I loved it and I won't have a word said against it."
After 4 days with at least 22 hours on the road, we were very glad to arrive at the Lazy J RV Park and Campground in Rapid City, South Dakota.
---