Guest Post: 10-tips from a First Time RV'er
Posted by Guest Blogger on Tuesday, June 10, 2014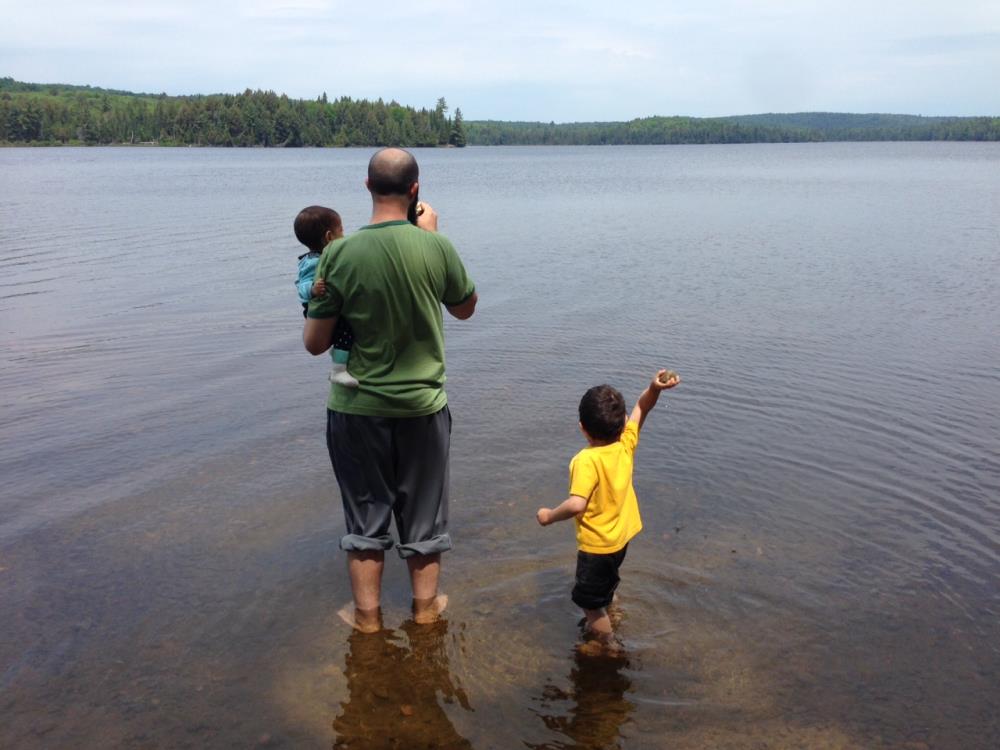 EDITOR'S NOTE: Basem Emara has been a friend and co-worker of J.'s for the last several years. He was inspired--in part by our adventure--to taste a little of his own RV adventure. They called it the 2-province project. Hehe.
We're glad to have had a small part in this dream fulfilled. Below is his recap of his trip with his family. Maybe it will inspire you. Keep exploring, Basem!

---

As long as I can remember, my wife and I always want to go on a journey in an RV. It was a refreshing thought to become a nomad and get unplugged to connect with nature. Then we had kids and pushed this dream to our "retirement" years in the future. Then J talked about doing this with kids and actually inspired us to do this with children anyway. It doesn't have to wait! We did this last week and went on a 2-province project for a week: Ontario and Quebec.

We rented a 24-foot A-class RV for my family: a 3 year old son, <1 year old daughter, and a pregnant wife. You may think we're crazy, but we like to consider ourselves young and are always hungry for exploration. We started mapping out our scenic route from Toronto to Ottawa to Montreal. We used an app called Roadtrippers which was great in adjusting the route. We made sure our route included as many lakes as possible. As part of our research, we started getting caught up with all of J and Brooke's blog posts as well :). We eventually camped out at Algonquin Park for a couple nights and a few other camp sites.
Here are some tips I learned along the way that I'd like to share:
Barbecue: this is the most common way to make food in an RV situation since you don't want to smell or fog out the RV. Also very convenient, except for starting the fire! We were using natural firewood and a lot harder to keep it lit than it sounds, but once lit, it stays lit for awhile. Of course, it takes practice and my experience before was only throwing logs in the fireplace or using self-lighting charcoal in a barbecue. The trick to firewood is setting it up as a pyramid with kindle wood in between. Position it correctly first because it will be difficult to do once hot. Also when Barbecuing, make an extra day or two's worth of food since starting a fire every day is wasteful and inconvenient. Another thing about barbecuing, do them at the public parks with picnic tables because it's beautiful, fun, and no bugs :)
Bugs: July was one of the worst times to go camping because of bugs and mosquitoes. Apparently, September is the best time in terms of bugs not being present. Luckily, my wife has a natural homebrew of bug repellent with essential oils that actually worked well with mosquitoes, but attracted other bugs in a catch-22.
Kids: Keep the kids entertained. The toddler was getting homesick after the first day or two. The trick was to bring his favorite toys and items with us on the trip to make him comfortable and feel at home. Also, do unique things with him. For example, at night I took out a few glow sticks and played a game on staying quite in the dark and guess what all the sounds are we hear in the wilderness (frogs, crickets, tree leaves, etc). Another cool thing we did is break out the rain gear and let him jump in all the muddy puddles when it rained.
Power: Most RV's have a power generator, but on our rental we got charged a hefty price for using it when not plugged in. So instead, a better thing to do it bring a portable generator (rechargeable one, not gas one) so you can at least plug things into it. I was surprised that the wall sockets in the RV didn't work unless plugged into a power source. I would've expected them to run off the cabin batter like the lights. Even one wall socket would've been nice.
RV App: The AllStays Camp and RV app was awesome! It saved us many times in finding a camp sites, overnight parking when traveling, or RV dump stations at the last minute. It does so much more. This app is essential and more than worth it!
Overnight Parking: I guess this is common RV knowledge, but almost all Walmart's offer overnight parking to RV'ers. You have to ask the manager to see if it's ok because sometimes the Walmart's don't own the parking lot and they may offer an alternative like parking in the back with the employees. Normally, I wouldn't recommend Walmart for anything, but they are very RV friendly and you'll see a few comrades parked out there with you. A trick we figured out is if you want to go sight-seeing in the city, park the RV in the nearest Walmart and take the public transit to the city from there. This is better than finding parking for the beast in the city (which cost us $50 in the heart of Montreal one day - we had no choice!). Also, Flying-J gas stations are very RV friendly.
Waste: Ok, black and grey water dumping. It's not as bad as you think if you've never done it before. Just hook up the tube to the spout on the RV, point the other end into the drain, pull the black water lever to release and wait, then the grey water lever and wait, then close the valves, rinse, close, and done! You have to do it once to realize it's not that bad. Also, its not easy to find RV dump stations, but many (not all) campgrounds will offer this service for $10 or so. The AllStays app helped us find one and call to make sure.
Conservation: We learned a lot about conserving and wasting water. Since you have to fill the RV with water and dump the black/gray water yourself, you are much more conscious about your consumption.
Camping: When ready to dock for the night, make sure the RV is leveled. Use an app or leveler to make sure you're not parked on bump or rock. You may need to inch your RV around to make sure you are leveled before settling down. This is just for convenience so the shower, cooking, etc is leveled, otherwise the shower may not drain or other annoyances.
Driving: When travelling on the road, try to segment your drive to 2-3 hours at a time. Anything longer is not enjoyable and becomes too much. You are in a house on wheels, so take advantage! After a couple hours, pull over into trucker/RV friendly rest stop and let your hair down. Stretch, make a bite to eat, enjoy the family.. you shouldn't be in a rush. Enjoy the time and try not to squeeze it.
The family and I enjoyed our experience and recommend it for everyone. It is important for us city-folk to do this at least once in your life. It brings out the best and worst in us, and what to improve on. You meet a lot of new people and the kids learn a lot as well. Operating an RV is a great skill too. Many of the technologies and techniques are borrowed from marine by the way, which is very interesting to draw the connection. Perhaps the next frontier will be in a boat ;). Take care and happy camping!
---