HALF-WAY HOME
Posted by Brooke Tower on Tuesday, January 13, 2015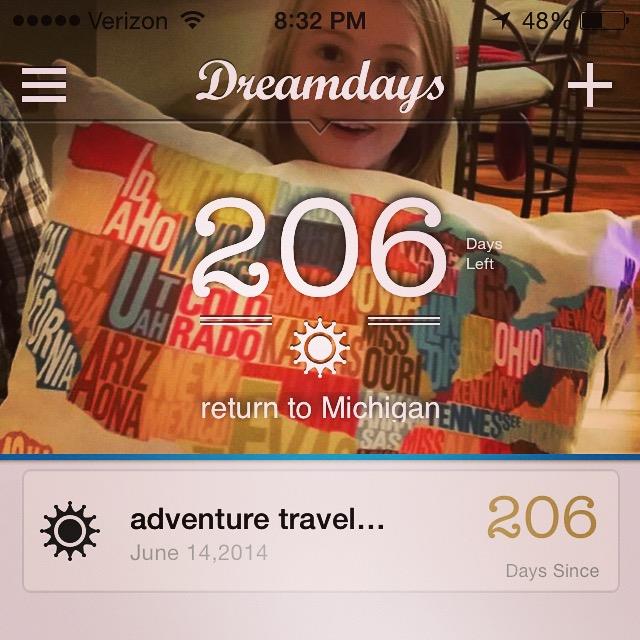 Last week marked the official half-way point between when we left Michigan on June 14, 2014 and when we plan to return on August 1, 2015. Two-hundred and six days down, 206 days to go. The days often feel long, but the weeks and months have flown by. It is hard for me to grasp all the places we have visited, all the places we have lived, and all the people we have met.
Every part of this process of traveling the 48 states in an RV has been filled with emotions--excitement, fear, anticipation, wondering, sadness, frustration, and joy, to name a few. It feels like more than I can possibly hope to process. There was all the preparation to leave our house, our community of friends and family, the kids' school, my work. And the work of getting our 5th wheel Sundance ready for us to live in, buying space-saving kitchen gear, driving to Sawyer to get a washer/dryer (and I'm SO glad we did), deciding what was worth bringing, what we could fit, what we would need, not to mention practicing driving and parking a huge rig.
And all this was before we even left home! Since then we have learned about how to look for gas stations that will accommodate us when we are towing the 5th wheel, how to set up and take down in hot, cold, rain, light & dark. We have figured out (mostly) how often we need to empty the water tanks, how often to refill the propane tanks (much more frequently now that it is winter and below freezing at night). We have worked through some minor flooding, ants, RV maintenance, living in a small space and what that means for putting things away (constantly). The kids have become proficient dish-washers with fewer complaints. We are somewhat accustomed to the movements that shake the whole RV when I am doing a load of laundry. We have learned that advertised Wi-fi at the campgrounds pretty much just means very slow internet. Thankfully, J. has a hot spot that he uses for work that has worked well for him.
Homeschooling is also a whole new thing for Luke, Lauren, and me. Continuing to move forward in the curriculum, keeping an eye out for ways to reinforce things we are learning on our field trips, and planning ahead when the unknowns are so abundant has definitely stretched me. Being quiet enough for J's work meetings happening less than 10 feet away has been a huge part of the challenge, and the inspiration for more than a few field trips. We all agree that Bauerwood Elementary is definitely the best place for Luke and Lauren next year, thankfully. I love learning things together and exploring, and desperately hope this year's education on the road will bring more help than hindrance to them both.
I remember reading Elizabeth Gilbert's Eat, Pray, Love and being struck by each city having a word that characterizes it. We have definitely sensed different cultures and attitudes everywhere we have been in these great states of America (by the way, now would not be a good time to ask me to come up with words for the places we have been). The longer we stay somewhere, the harder it is to leave that place. Though usually there is something I am happy to leave behind, whether it is the shower-house, noise outside, park management, or distance from a grocery store.
And yet, I am amazed the new mercies that come each morning, the sunrises and the sunsets (whether I see them or not). Being able to drive through the majestic states and notice the subtle and vast differences in the landscapes and plants has been amazing. The opportunity to go to so many National Parks has been phenomenal. I think we are up to 21 national parks or monuments in the last several months. I had never been to any of these before this crazy 48 states project. The kids have gotten even better with the countless hours and miles traveling in the truck. Having eyes of travelers, we get to notice all kinds of things that we might not notice if we were in a place for a while--like random signs, or plants, or ways of speaking. When there was a lemon tree inches from our back window, the kids were thrilled to learn how to make lemonade, even if it meant squeezing the lemons by hand.
Luke and Lauren's friendship has grown closer, and though there are still disagreements and threats to not play with the other if a certain expectation isn't met, there is a sweetness and depth that I have seen growing. They have learned to make new friends more quickly, to talk with more adults, and to ask for help or directions.
And so I enter 2015, still incredulous that this is our life this year. On New Year's Eve, I commented that 2014 was the year we left, and 2015 is the year we will return home to Michigan. There are still many miles and states to go, and though we have challenges, we continue to be amazed and humbled that we get to see so much of God's beauty--in people and in places.
---