Kind of Camping
Posted by Brooke Tower on Thursday, July 10, 2014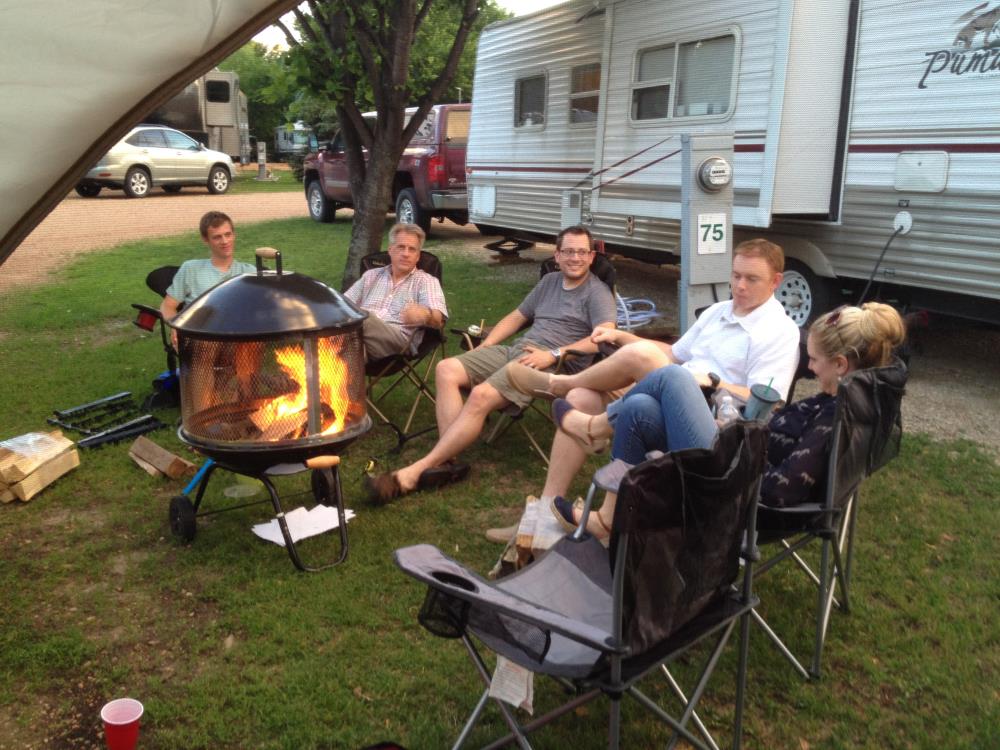 When someone tells me they went camping, I usually ask, "What kind of camping do you do?" Because, in my limited experience, I have noticed a few differences in what camping means to different people. Some people consider camping to only be in tents. I definitely feel closer to nature and the effects of the weather much more vibrantly in a tent. Then there are pop-ups, travel trailers, 5th wheels (what we have), and motorhomes--all which are considered recreational vehicles (RVs). And then there are many hybrids of these. One main benefit of RVs is that you can keep everything you need inside, it is a little home set up. There are many definitions of camping and one means to set up temporarily in a space. Some RV-ers do this for a night, others do it for months or seasons at a time. Many other definitions refer to tents.

So, if the definition of camping includes living in one place temporarily, we are camping J.
If the definition includes a tent, we are not camping. We are living in different locations that happen to be called RV parks or campgrounds around the country in a wonderful little house on wheels that has many luxuries also found in houses (aka bricks and sticks).
Staying at the Town and Country RV Park in Savage, Minnesota was our first camping-in-an-RV as a family experience. Since our camping experience so far has been primarily staying in a tent over a weekend in Michigan State Parks, we are noticing some similarities and differences.
It takes us about as long to park, level, set up the chocks (to keep this home from rolling when we want it still), hook up the electricity, cable, water and sewer hoses as it took us to set up our 6 man tent and inflate the air mattresses.
When setting up a tent site, we looked for a flat area and chose where to face the door to the tent. In the RV, we are more concerned about distance from the water and sewer lines and we don't choose which direction we face, there is just one option, give or take a few feet on either side.
We are VERY thankful to be in an RV, off the ground in the many thunderstorms we have experienced so far.
The RV park was quieter than state campgrounds and we were there long enough to notice many other RVs come and go. I think that just maybe fiberglass walls contain sound better than nylon. Maybe.
It is easier to stay in your RV than it is to stay in your tent so between the rain, thunderstorms, and mosquitos, we didn't spend as much time outside as I had expected. We had to rent a fire-pit, so we only had one fire while we were there (the rain was also to blame).
RV parks usually have pools and game/recreation rooms. Michigan state campgrounds often have lakes (or lake access).
It is more difficult to maneuver a pickup truck and 5th wheel around tight corners that we wouldn't have even noticed in our 1998 Honda Accord packed with gear. (We also learned to not trust our teenage "guide" driving a golf cart to anticipate small spaces.)
Lauren noticed that the tent moves with the wind and the RV moves with people walking.
Another difference is that in a tent she can hear the crickets, and in the RV you can't (especially over the noise of the fans and air conditioning.)
Luke noticed that it is easier to fall asleep with less outside noise and more temperature control.
It is really convenient to be able to use the bathroom in the RV, so we make far fewer trips to the bathhouse. The water pressure and amount of hot water in the bathhouse usually makes it worth the risk of a wait for a shower.
It is far easier to call this Sundance 5th wheel "home" than it would be to call a tent home.
---