Looking At Something from Different Directions
Posted by Brooke Tower on Friday, March 6, 2015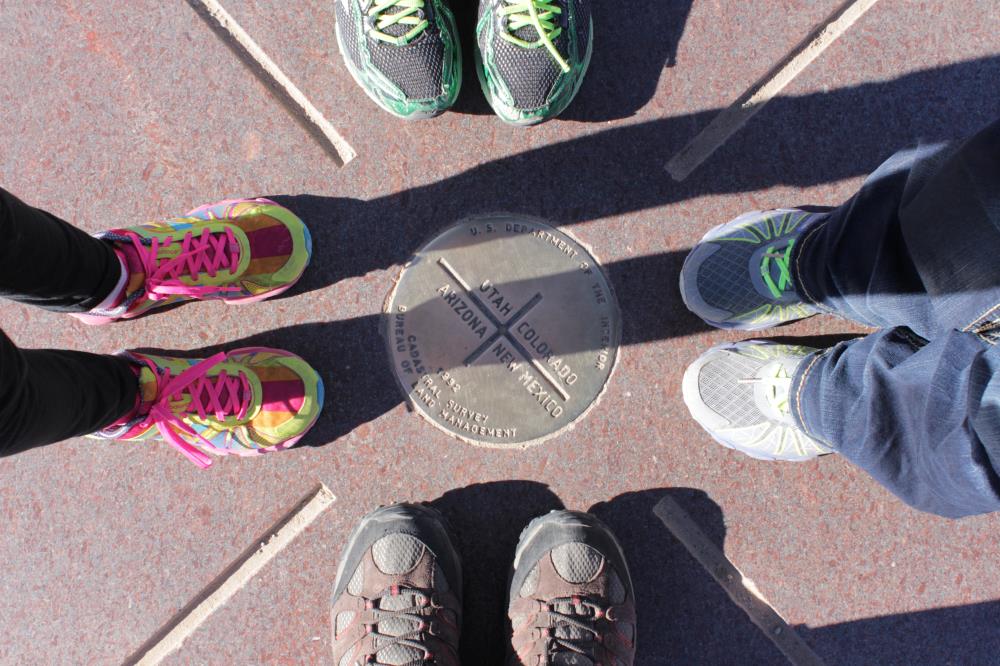 Looking at things from different points of view is not a new concept. However, traveling this year has added new dimensions of perspective. As I've matured from looking at things from an "either-or" to a "both-and" perspective, it has been fun to appreciate the great variety of ways to approach life.

TRAVELING IN A LOOP VS. TRAVELING OUT AND BACK
I used to think that driving loops of roads was the best strategy to see as much as possible. So, I was initially frustrated when we went out on a road to Mammoth Hot Springs in Yellowstone National Park and had to double back to return. What I found, though, was that I actually did see different things on our return trip. Yes, some things looked basically the same, but my eyes were drawn to different things going the opposite direction. I was astonished to realize that we had passed a large, beautiful waterfall on our way out and I had no idea it was there until we passed it on our way back. Sometimes looking at the same thing from a completely different angle can be the best strategy.
HEARING VS. BEING THERE
I don't know where I got my information about Mardi Gras in New Orleans originally, but I had heard it was a wild adult experience where the way to get free necklaces was to flash certain body parts. So, when I first realized we were going to be near there during this season, I was a bit nervous about going and taking the kids to see the city. I had not realized that Mardi Gras is a short season that leads up to Lent and ends at midnight of Ash Wednesday in a city with a rich Catholic heritage. After doing a little research, we found that while the French Quarter during Mardi Gras is definitely NOT a family-friendly place to be, attending the "krewes" (parades) in other parts of New Orleans was an event people of all ages could and did enjoy.
We arrived Lee Circle at about 10:30 for the Okeanos Krewe that was scheduled to begin at 11a. At 1:30p, after people-watching and some snacks, we eagerly stood up to see the floats, bands, horses and vehicles that passed. We quickly learned to hold our hands out to not only catch any swag from masked float-riders before native New Orleans residents enthusiastically grabbed it away, but also to protect our heads from getting hit with beads flung in our direction. It was so fun to connect with the friendly people around us and we left after 3 krewes with huge smiles and 230 necklaces, so thankful we had gotten to experience this part of Mardi Gras for ourselves.
NORTHERN STATES VS. SOUTHERN STATES
Each person's experiences and preferences tend to shape the things they see, and the things they don't. What your eyes and attention are drawn to is definitely connected to your perspective and what evidence you are open to seeing. Studying US History while exploring 26 states has been eye-opening as we've explored the Midwest, Northwest, West, Southwest, and now Southeast. I was reviewing plantations to visit in Louisiana on TripAdvisor and noticed that one plantation, which opened recently and is focused on the slavery aspect of plantation life, had mixed reviews. The glowing positive reviews were from people who were from states in the north. The more negative reviews were from people who were from the south and complained that "both sides" weren't presented. And who noticed this detail in those 11 reviews? Someone from a northern state who is in the middle of studying American history at the time of the Revolutionary War in which slavery is a huge issue.
WILD ANIMALS VS. ANIMALS IN CAPTIVITY
After spending lots of time at National Parks with countless signs and reminders to not approach wildlife, going to the Portland Zoo and being inches away from some of the same wildlife we had seen from a distance was surprisingly startling. Incidentally, so was getting pooped on by a bird flying overhead. It is exciting and amazing to see animals in the wild, but it is also fascinating to get to look at them up close and to read about the details of what makes them unique. There are different ways to approach caring for and learning about wildlife, and most of these ways serve valuable purposes in our understanding of and care to protect these animals.
VIEWING FROM ABOVE VS. VIEWING FROM BELOW
We had dinner with some friends who had also visited many National Parks and we talked about our some of our favorites. I realized that one of the things I like most is being able to feel close and look up at the majesty of trees, mountains and waterfalls. Yosemite National Park gives you a chance to visit the Yosemite Valley or view it from above at Glacier Point. Both views are spectacular and amazing, but I realized that I prefer to look up to behold the grandeur. But I also love the awe that is inspired by looking around and seeing for miles and the perspective that sometimes things look like big obstacles really aren't that big in comparison to all the other surroundings.
I want to live in a way that is curious and open to different perspectives, while being grounded in who I am and who I want to become. It has been eye-opening to look at so many new places, to read stories from so many different perspectives, and to have conversations with so many new people. Understanding new perspectives only adds to the comprehension of the complexity of our world and humanity. I am in awe of the beauty, tragedy, history, and love that is found all over.
---