One month into this 48 State Project
Posted by Brooke Tower on Tuesday, July 15, 2014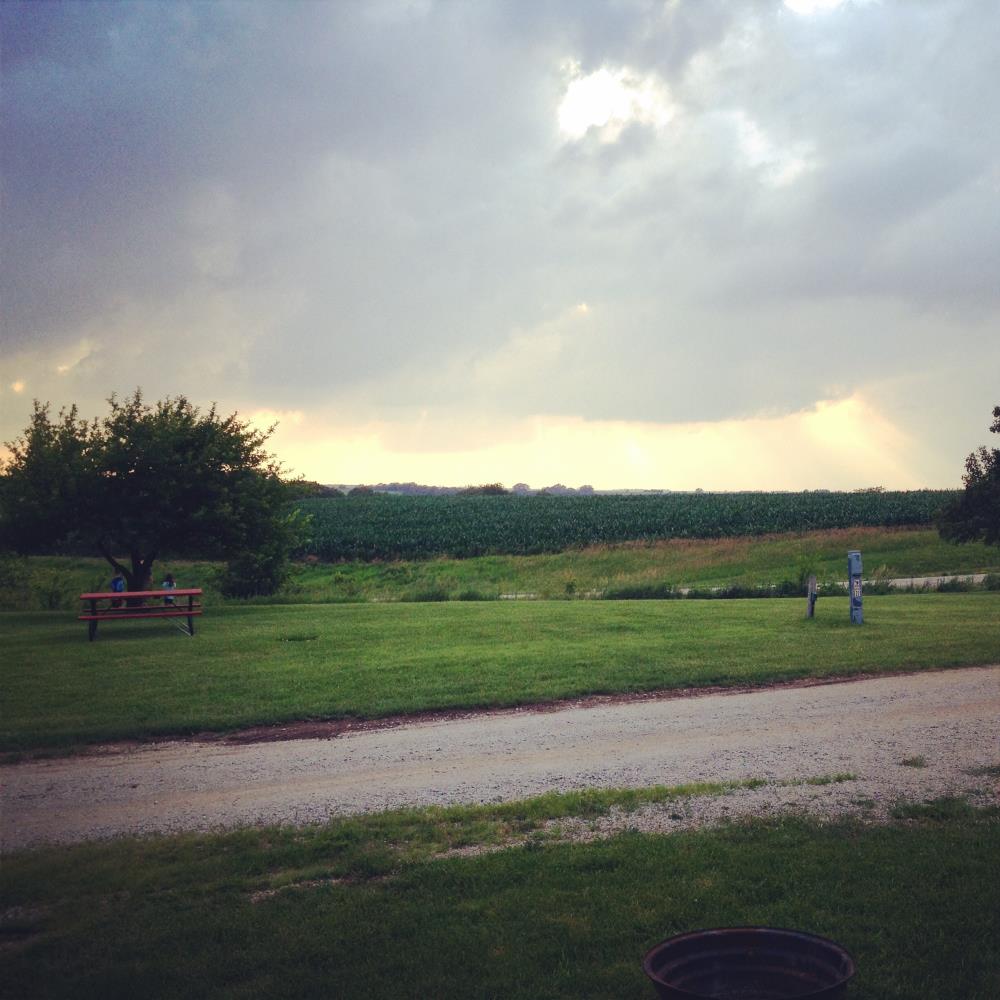 It is hard to believe that one month ago today we pulled out of our driveway and began this crazy adventure. J. and I definitely have moments of "are we actually doing this?!?" Our truck tires have crossed the borders of 11 states (which might make it seem like we are about 23% through this adventure after only one month). We have crossed many miles of the wonderful Midwest. When I remember road trips as a kid, they were usually through Wisconsin to the Upper Peninsula of Michigan to visit my Grandma and Grandpa Swanson, or through Illinois and Missouri to visit my Grandmother and Granddad Fenton in Kansas. I think I read most of the way and remembering the view out the window being "boring." This time, I am mesmerized by the miles of prairies, farms, hills, mountains, small towns, and billboards and haven't even been tempted to read (except maybe once or twice). There are so many colors in the grasses and wildflowers and I find peace in the wide open spaces. We have been listening to C.S. Lewis's Out of the Silent Planet along the way. I hope that Audible has the Little House on the Prairie for us to listen to next.
I often believe that I will have more time "later" to do things, but had a realization that if I'm not diligent about taking pictures, keeping a log, and journaling, I will forget many of these new places and experiences. So, I am planning to make it more of a priority to do these things, and to make my goal of blogging twice a week closer to a reality. And I am putting this in writing so you, dear reader, can feel free to nag me if I don't follow throughJ.
I feel like each place we have stayed is its own chapter in the story of the 48 State Project...so each location we have spent the night in will have its own chapter blog. We have gotten to spend time with my family in IL, MN, and in KS and it was wonderful to begin this journey with those connections. Being in SD is the first place we have been just our party of four. And we are starting to fall into a better rhythm and idea of how to make this work for all 4 of us with our various needs for work, fun, rest, and time alone.
The same and different
Though we are in new places and noticing so many new things around us, it is very comforting to have the inside of this Sundance relatively stay the same. J. continues to work 40+ hours/week, and literally worked two hours on the road while I drove down to Topeka, KS. The way the kids rate the campgrounds is based on the pool, and swimming is the most asked-for activity (besides electronics time). Luke and Lauren get along and play well most of the time with regular reminders to be kind, but missing their friends continues to be the hardest part for both of them.
Grocery shopping is similar, only instead of shopping for large quantities at Costco, I am now actively looking for smaller sizes of things so they can fit in our small refrigerator. I don't know where things are in the various new stores so the process takes longer than I have been used to. And having two helpers to keep track of adds to the "adventure." It takes longer to put things away, because I need to do more rearranging than I had to before. But as I get used to this as my "new normal," it feels less frustrating.
We discovered that the oil needs to be changed more frequently when you tow something behind you. And we all still need haircuts, and prefer Great Clips wherever we can find them because they have our hair preferences in their computer system. I am growing my hair out since Great Clips has no information on me ;). We have to buy more expensive RV toilet paper in much smaller quantities, and keep track of how much water is in our tanks or water in the sinks don't drain. I still have just as much laundry to do and think that doing it often during the week is a much more useful strategy than trying to do on the weekend. The sheets still don't get washed quite as often as they should.
We've come to the conclusion that a 30% chance of rain in the area means that there is a 100% chance the rain will fall on us. Fortunately it usually doesn't last long and we can still get outside at some point in the day. I use the satellite view on Google maps to try to figure out a good place to run near the campground. We are on a busy road here in Rapid City, so I may have to break down and drive somewhere to run before we leave.
So while the view out our truck and RV windows has changed many times, many parts of our life have not changed very much.
---