Our 48 States 11 Favorite National Parks and Monuments
Posted by Brooke Tower on Saturday, October 31, 2015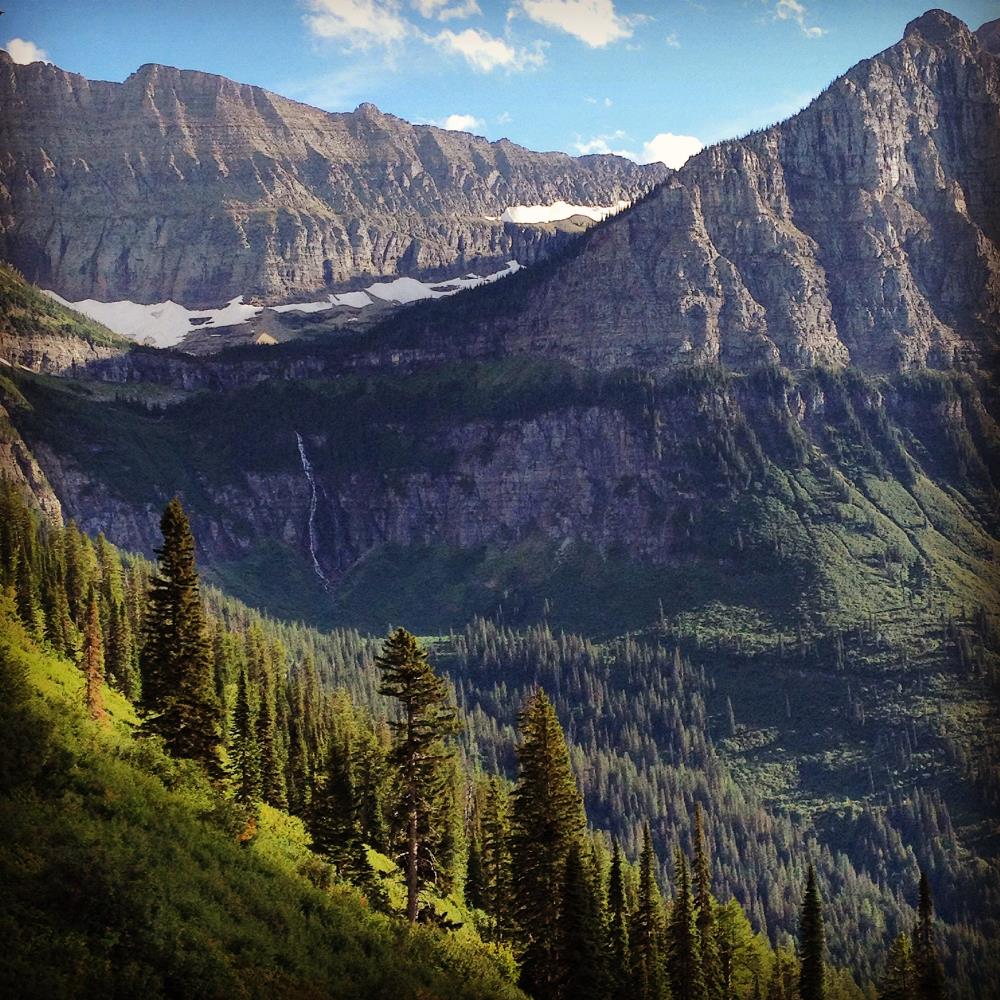 We visited 19 National Parks and 9 National Monuments in our 2014-2015 travel adventure. At the end of this 408 day journey, we each gave a score on every place using a scale of 1-10. I can say that visiting ANY National Park is a wonderful experience--the National Park Service (NPS) does a phenomenal job with managing the roads, educational programs, visitor videos, and answering questions. We spent $80 on the America the Beautiful NPS pass and it was more than worth every penny. It gets you into over 2000 federal recreation sites, so we visited several state parks using this pass in addition to the 28 National Parks and monuments. I think it might be the best $80 we ever spent. There are 58 National Parks, and over 100 National Monuments, some we missed due to location, scheduling, and time available. I've looked at other lists of "Top 10" and some of ours our in there, some aren't.
1. Glacier National Park, Montana, Score 10
When asked where our favorite place was, Glacier tops the list for all of us. We were there late August, early September. We loved the huge mountain peaks, the pure glacial, alpine lakes, the waterfalls, the wildlife, the very steep and narrow Going-To-The-Sun road that is only open a few months per year due to snowfall. We enjoyed our hikes as well seeing the glaciers, black bears, moose, and mountain goats. It is a stunning and glorious place to visit, and a gift to see a few glaciers before they all melt.
2. Yellowstone National Park, Wyoming, Idaho, and Montana, Score 10
Yellowstone is another beautiful and amazing park. It is enormous, and just driving to get into the main loop of the park from our RV took us awhile. It is a place of weird and wonderful things--the geysers, bubbling mud pots, Mammoth Hot Springs, Grand Prismatic Spring, Upper and Lower Falls, Tower Falls, buffalo along the road, and of course, Old Faithful. Our experience there was made sweeter with J's parents visiting and getting to enjoy time with them there. It also made it possible for J. and me to celebrate our 15th wedding anniversary alone at the Old Faithful Inn, a very interesting and beautiful building. We enjoyed the depth of all the colors and variety of cool and varied things to see, but it was quite crowded and finding a place to park our 20-foot pickup truck was often a challenge.
3. Crater Lake National Park, Oregon, Score 10
Crater Lake is one of the clearest, purest places we saw. The lake is fed only by snow and rain, so the water is incredibly blue, and clear. Mount Mazama was a volcano that erupted thousands of years ago and what is left is all but the top of the mountain. Though the forecast for weather that day clear, it was very foggy and rainy with limited visibility. It was the only possible day that all 4 of us could go, so we took a side road to see the Pinnacles, which were fascinating sand-like structures that were formed by the steam holes and vents from the volcano. After debating whether we should drive around the lake or not, we decided that as long as we had traveled the 2 hours there, we might as well continue and continue to hope for sun so we could actually see the lake. When the wind blew the cover of clouds and fog away, we were astounded by the spectacular sight of the lake and a double rainbow. It is hard to imagine a purer blue. There is only one trail that leads down to the surface of the lake, so we took advantage of the opportunity and hiked down to touch the water. I think we were extra thankful we got to see the lake partly because we weren't sure we would get to for half of the day.
4. Arches National Park, Utah, Score 10
We had originally planned to spend more time in Utah's National Parks, but opted to come home to Michigan for Christmas instead. So, when we decided to leave the RV in Santa Fe and drive up to Colorado, we were excited to get to go to Arches (as well as to Mesa Verde) that January weekend. The formations were huge and we enjoyed the fitting names of them: Park Avenue, The Three Penguins, Balanced Rock, The Spectacles (containing the North and South Windows), the Fiery Furnace, and Skyline Arch. The highlight for all of us was the hilly 3-mile hike out to the iconic Delicate Arch. I think there is something about working up to seeing something that enhances enjoyment and satisfaction. Turning the corner and climbing over the ledge and seeing this enormous famous arch was surreal. The views from there were spectacular, too. We hope to go back to Utah someday to see more of the Mighty 5 National Parks.
5. Yosemite National Park, California, Score 9.75
Yosemite is famous for many good reasons; not only the Ansel Adams photography, but also the views of Half Dome and El Capitan from the valley, and from Glacier Point, the waterfalls, the giant redwoods in the Mariposa Grove, the fall colors. We were there in November, so J. and the kids enjoyed scrambling up the rocks of a waterfall that had dried up so far that they were out of sight before they finally turned around and came back. Part of what also made Yosemite special was getting to experience it with J.'s parents, and then with my dad the following week. The immensity of the redwoods is mind-boggling and you remember how small you are in the universe and what a gift it is to behold such wonder and majesty.
6. Carlsbad Caverns National Park, New Mexico, Score 9.75
Carlsbad Caverns have some of the most astounding and varied formations we got to see in caves--it had stalactites (holding tight to the ceiling), stalagmites, columns, draperies, soda straws, and popcorn "decorations." The immensity of the cave and the rooms of the caves were truly breathtaking--the Big Room has a floor space of over 357,000 square feet. We toured 3 other caves in other states and one common theme seemed to be discovery and initial exploration by teenagers. Our Kings Palace ranger-guided tour was one of the best tours we took this year, which began after we took the elevator down 70 stories underground. It was fascinating to see where some local high schools had their prom for many years (that room wasn't quite as well-preserved as others). The names given to the sculptures such as Endless Kiss, Christmas Tree, and Queen's Draperies inspired our imaginations. We also did the self-guided audio tour through the Natural Entrance with very steep switchbacks. I think J's Microsoft band measured us walking over 7 miles that day. Seeing Carlsbad Caverns just might have spoiled us for other caves--time will tell.
7. Grand Canyon National Park, Arizona, Score 9.5
After hearing so much about the Grand Canyon for years, it was one of the places I was most excited to see. It is truly a beautiful astoundingly immense canyon. The colors of the different rock formation layers of limestone, sandstone, schist, and shale were a wonder to behold. I think it is 1 mile deep and 10 miles across and I was surprised at how hard it was to see the Colorado River at the base of the canyon. This Midwesterner had not considered the cold altitude and that we would be crunching through snow in December as we explored the South Rim. The views at sunset were exceptionally beautiful, highlighted by the snow.
8. Sequoia and Kings Canyon National Parks, California, Score 9.5
These two parks in the same Sierra Nevada mountain range as Yosemite are combined because we got to one park through the other, and they were very similar to one another. Touring the Crystal Caves was interesting, and getting to see Tunnel Rock, and the immense redwoods again. One was so large that our truck which couldn't fit into parking garages with clearance under 7 feet, could easily fit through. We were amazed by the Sherman Tree, which is the largest living thing on earth. They had a paved footprint of its base and my mind still cannot wrap itself around the height and breadth of that tree, and many other redwoods that are enormous, but haven't been named. I lost my phone shortly after taking a photo of the large Grant Tree at dusk (probably related to skipping with Lauren back to the truck), so my favorite memory was returning the next morning and eventually finding the kind strangers who had picked it up and handed it to me as soon as I started to ask if they had seen a phone.
9. White Sands National Monument, New Mexico, 9.25
White Sands was another place I had not heard of before our trip. It is a place with huge wave-like dunes of white gypsum sand that take up 275 square miles of desert--the world's largest gypsum dune field, which can even be seen from space. Seeing the endless white reminded us of snow when we visited it in January and touched the cool sand. What made our visit here so delightful was getting to rent sleds, applying wax, and sledding down the dunes, as well as rolling and running up and down the pure white hills of sand.
10. Death Valley National Park, California, Score 8.75
On our way to the unusually beautiful place named Death Valley, J. tracked down the (now fallen) Joshua tree that had been on the cover of the U2 album named for it. Listening to the songs of that album while driving through the desert gave them new meaning and depth for us. We drove over mountains and got to see the Mesquite Dunes, the Devil's Golf Course, and the Salt Flats--the lowest and hottest place in the US at 283 feet below sea level. We also drove the Artist's Drive and saw a coyote and kangaroo mouse on the road. The rocks, mountains, plants and trees were amazingly beautiful, desolate, colorful, smooth, rough and varied.
11. Mesa Verde National Park, Colorado, Score 8.75
Mesa Verde was the first national park established by President Theodore Roosevelt to "preserve the works of man." So the focus of this park is the preservation of cultural as well as national resources. The cliff dwellings and "houses" were fascinating to see from a distance, and our tour of the Spruce Tree House by an enthusiastic, knowledgeable and thought-provoking ranger was wonderful. He talked about the Pueblo people who had lived here 700 years ago, reasons why they may have chosen to live here, and then to leave. He showed us Pueblo technology, ways of building rooms, the circular rooms that could have a fire with fresh air vents, and how they used and obtained tools and other resources. Our expectations were exceeded by this park's display of knowledge, history, and artifacts.
Our strategy for visiting National Parks often included packing water and snacks, and picking up Subway sandwiches before we entered the park, in case concessions were closed or far from where we were or wanted to be. We also watched the 20 minute video in the visitor center about each park to get an overview of the place we were about to explore. Also, the kids and I each had a Passport To Your National Parks which we could stamp with the parks name and date in the various regions. I think I was the most excited about stamping the passports. We usually looked on the NPS website the day before, and tried to come up with a rough plan of what we hoped to see, dependent on weather, time, and energy levels. I don't know when we will next get to explore a National Park, but I can't wait!!!
---