Our Visit to the Amish Town of Jamesport, MO
Posted by Brooke Tower on Friday, July 11, 2014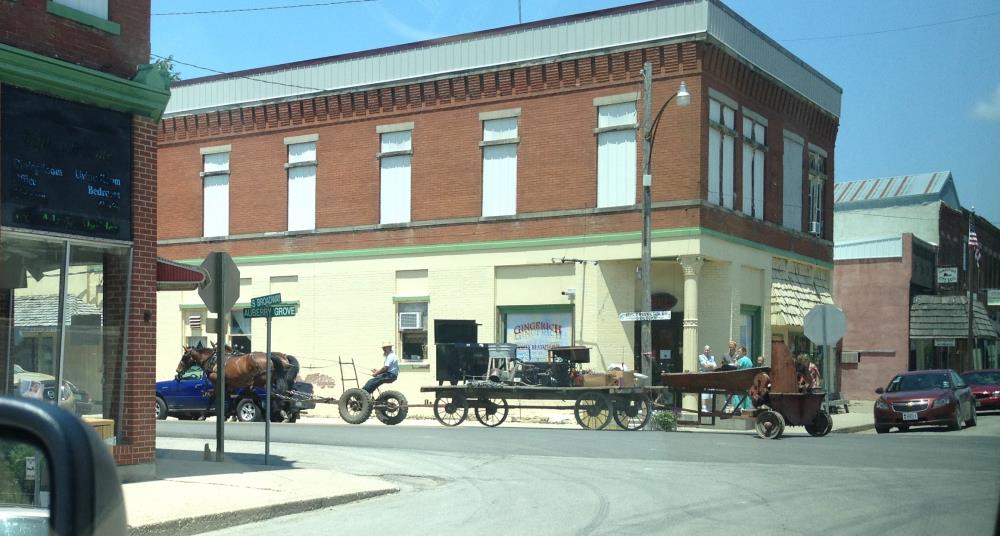 A tour of one of the oldest and largest Amish communities west of the Mississippi was a fascinating experience for Luke, Lauren and me. I love having a tour guide explain and point out facts about new places. I learned many things from our guide, Ron. Our tour began sitting on the porch at the Arbor House in town with an explanation of Amish history, both religious and social. We learned how the community takes the vow to become Amish as a lifelong commitment, similar to marriage. They do not make this covenant until they are adults. Ron said that about 15% decide not to become Amish. It was comforting to hear that the community doesn't shun those who decide not to commit to the Amish lifestyle, and that children and grandchildren were still welcome to visit. There are also no homeless among the Amish as they truly "take care of their own."

Our tour continued as a caravan of 3 vehicles followed Ron's car and continued learning by radio in each of our cars (we were referred to as "The Truckers" J, a first). It was fascinating to pass the blacksmith getting ready to put horseshoes on 2 huge draft horses, to see a miniature horse in a field, to notice a farm where deer are raised to sell to hunting ranches in Texas. We drove past small dairy farms, a small sawmill, and many gardens and farms.
Old Order Amish means not using electricity or owning a car, not being dependent on technology. They can use other forms of power, like wind, solar, and propane. In our tour of the Graber home and farm, we got to see an old fashioned washing machine and wringer that they used with pneumatic power. We also saw the wood burning stove that they used to heat their home in the winter as well as the storm cellar where they stored some canned food and would go if the weather got bad. The sewing machine looked modern on top, but was powered by an old-fashioned foot-pedal. Their community has plain, or solid colors, and they sew their own clothes (though our guide wore Nike sandals, so there must be different standards for footwear?). If they buy fabric with prints or designs, they cut those out and just use the plain cloth.
Our guide, Sarah, then took us outside to their carriages. She showed us the inside of one and under the seat, where the batteries are stored for the lights on the buggy and told us these were recharged by solar panels on top of their house. If the family can afford it, the tradition is to give each son a carriage for his 16th birthday. One costs about $5000 and will last 60-70 years if well cared for. And they don't have to pay insurance on it. Most of the community lives within a 5 mile radius and it takes about 45 minutes to drive a horse and buggy 5 miles.
One rule in this Amish community is that families are not allowed to have a phone in their home, but they are allowed to have one in the yard, so there are little buildings, sometimes shared by multiple families often along the road. Ron explained that the reason for this is so that the phone ringing doesn't interrupt family activities inside the home. Most of the phones have answering machines and Sarah said that most people go out to their phone to check messages and return calls around 7 in the evening. Her father had a brain aneurysm in the middle of the night and they were very thankful to have their own phone in their yard so they could call for help. Her father was Medevac'd to Kansas City for treatment.
Ron told us that there has been drought in the area for 3 years, so the community is thrilled with the rain and the storms that have given the land what it needed. Unfortunately, 2 of the horses on the Graber farm were struck by lightning in these thunderstorms. We didn't ask for more details about that very sad circumstance. There is a hog farmer down the road who had given the family a couple of the runts. The pigs were lively and reminded me of playful dogs in their little pen. They didn't look like runts to me. But when we got back into our vehicles and passed the hog farm, I could see why those cute pink pigs might be runts compared to the huge hogs we saw from the road. Ron wisely suggested we roll up our windows before passing the stinky farm.
Our next stop was at a country store. There was a solar panel on top of their phone shack, to provide power for their fax machineJ. There were no lights inside other than the windows and sky lights. Lauren couldn't resist buying a little wooden jewelry box with puppies on it.
We then went to a local dairy and watched a little of the cheese making from behind a glass. Luke was not interested in seeing how this worked, or in sampling the delicious cheese. The calves were outside each chained to a little house similar to a large doghouse. It was kind of sad to learn that they are given formula to drink while the milk from their mothers is turned into cheese. The dairy was owned by another religious group that wore head coverings, but did own cars and used electricity. I think the names Ron used for the other religious communities in Jamesport were Mennonite and German English, but I don't remember exactly. He said they all got along fairly harmoniously.
Our tour ended at the Countryside Bakery where we enjoyed some delicious donuts and got some garlic cheese bread to bring back to share with J. The H&M Country Store had plenty of candy, snacks, and other pantry staples to enjoy. Outside there was a fawn in a cage that enjoyed licking the fingers of Luke and Lauren. There was also a pet raccoon, but we didn't get to see him. And free kittens that the kids tried unsuccessfully to convince me we should adopt.
It was thought-provoking to get a glimpse of another community and some of the ways they choose to live. The sense of peace and simplicity was refreshing, and it was like stepping back in time seeing the horses and carriages. I smiled when I saw a team of horses pulling a man with two trailers and was glad I wasn't the one turning corners with that load.
---